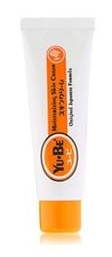 Yu Be Hand Moisturizing Skim Cream 1 oz
Invented by Japanese pharmacist Yoshikiyo Nowatari Yu-Be (pronounced "YOO-BEE") is a Glycerin-based moisturizing cream enriched with Vitamin E Vitamin B2 and Camphor. It's the uniquely high Glycerin content (achieved through a special manufacturing process in Japan) which makes Yu-Be Moisturizing Skin Cream so effective on serious dry skin or sun burnt skin and truly sets it apart from other creams.
Yu-Be contains these leading skin conditioning ingredients:
Glycerin - "Humectant" attracts and retains moisture in the skin.
Vitamin E - Anti-oxidant.
Vitamin B2 - Helps to smooth rough skin - also gives Yu-Be it's yellow color.
Camphor - Refreshing scent fades in minutes.
Sodium Hyaluronate: Humectant helps retain moisture.
Concentrated moisturizer helps hydrate and soothe dry skin
Helps smooth rough dry skin on hands elbows knees and feet.
Non-greasy formula absorbs quickly and lasts.
Contains no artificial colors fragrances or SPF.