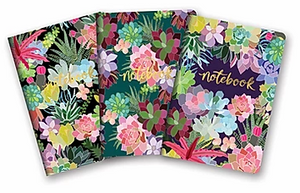 Succulent Paradise Notebook - 3 Styles
These journals are great for when you want to travel with something lightweight that you can easily slip into a small purse or travel bag. Pages are lined for easy journal writing. Covers are based off of original artwork from a variety of independent artists.
Dimensions: 5.75" x 8.25"
Contents: 80 lined lages
Sturdy, bellyband wrap
Choose from 3 styles: Blank, Green, or Purple