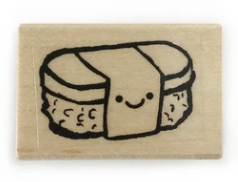 Spam Musubi Rubber Stamp
Transport yourself to Hawaii as you use this spam musubi rubber stamp. You'll think you're snacking on one at the convenience store!
Personalize your stationery, create greeting cards and wrapping paper, or just a hand stamp when you're in a happy mood. You'll have fun with this stamp!
Measures 1.25" high by 1.25" wide
Made of high quality red rubber and mounted to a wood block