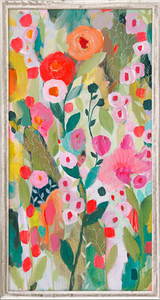 She Persisted Floral Framed Canvas - 5x10
Sheer pure colors burst from our painterly piece. This floral creation is among one of our favorites!
These mini masterpieces come ready to set on a shelf or hang on a wall. Our frames are approximately 1.25" in depth and come with a lightly distressed rustic finish that creates a beautiful texture. Each canvas art piece is reproduced in their San Diego studios using the best digital reproduction method currently available, resulting in great clarity and color saturation. Canvases are exceptionally durable and can be cleaned with a soft, dry or slightly damp cloth.
This is a giclee canvas art print of a painting by Carrie Schmitt. Info of the artist is on the back of each piece.