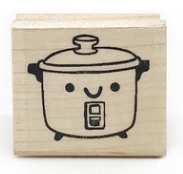 Rice Cooker Rubber Stamp
Share your love for rice with this rubber stamp designed by local artist, Genevieve Santos. If your friends are anything like you, they will for understand why this is so relatable!
Personalize your stationery, create greeting cards and wrapping paper, or just a hand stamp when you're in a happy mood. You'll have fun with this stamp!
Measures 1.25" high by 1.25" wide
Made of high quality red rubber and mounted to a wood block