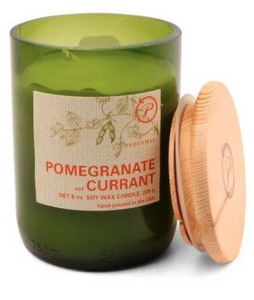 Pomegranate and Currant - Candle 8 oz.
Light fresh fragrances that release beautifully into your home.
Top Notes: Juicy Lemon, Golden Raspberry, Black CurrantMiddle Notes:  Pomegranate Seeds, Peony Petals, Pear Blossom
Base Notes: White Woods, Golden Amber, Musk
Made with natural soy wax poured in a container from a recycled wine bottle. Say what? Yup! For the candle enthusiast who likes to recycle and reuse. A drinking glass, pencil cup... whatever your imagination allows! 
Candle is 8 ounces, soy wax and the glass vessel has a wooden lid with a rubber liner.