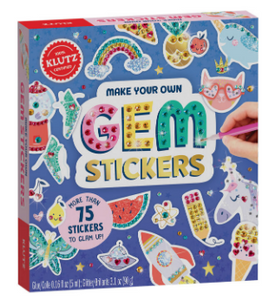 Make Your Own Gem Stickers - Klutz
If you like the puffy sticker kit, you'll love their new gem sticker kit. What's better than stickers? Shiny stickers!
Includes: More than 75 stickers full of super-cute designs like rainbows, unicorns, narwhals, and aliens with glitter, gold, or pretty pastel accents. 3 sheets of stickers, gem pick-up tool, wax pad, glue, silver foil sticker, iridescent sparkles, holographic star glitter, rhinestone gems in 4 colors. Enough supplies to make 75 stickers!
Manufactured by Klutz