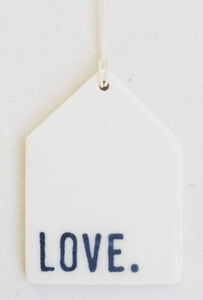 Love. - Mini Porcelain Wall Tag
These mini porcelain signs are a favorite in our shop. Hang them on your plants or by your desk at work as little daily reminders. Makes a great gift for yourself and others.
Material: porcelain clay, glaze, underglaze, and hung on hemp string
Dimensions: approx. 2 3/8"h x 1 11/16" w (excluding string)
Each piece is handcrafted by wife and husband, Mary and Cory, of mb art studios. These pieces are inspired by the love they have for their family. To take care of her son's health, Mary needed to find a way to work at home, so she discovered the artistic side of her and began creating these inspirational tiles. Later on, husband Cory wanted to be part of the creative process. So now, it's a family run business!
So many quotes to choose from - collect the ones that speak to you!