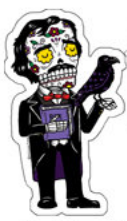 Edgar Alan Poe Sugar Skull Sticker
We have own own sugar skull sticker, quote the raven.
Celebrate you appreciation for pop culture and sugar skulls with this fun collection of die cut vinyl stickers designed in Los Angeles, CA.
Dimensions: Approx. 3"H x 1.5"W
Ideal for water bottles, laptops...anywhere that needs some flare!