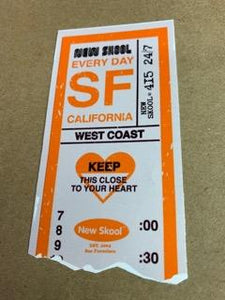 Muni Inspired Transfer Sticker
A throwback for those used transfers to get on and off the Muni! If you don't know what these are, these were used back in the day as your transfer when you paid cash to get on the bus. You could use the ticket until the time expires.
Designed by local San Francisco artist, Nate 1 Design. Inspired by the original transfers used to ride the Muni with added San Francisco love.
Dimensions: 4" x 2"
Material: Tear resistant vinyl
Ideal for water bottles, laptops, journals...you name it!
*Cannot be used to get on the Muni