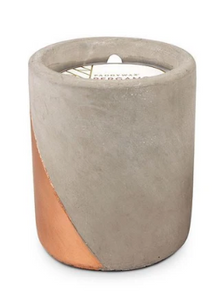 Urban Bergamot + Mahogany - Candle 12 oz.
Bring your Urban garden indoors with youthful and inspired fragrances poured in concrete.

Top Notes: Bergamot, Bitter Orange, Lemon & Lime Rind
Middle Notes: Clary Sage, Star Anise, Eucalyptus, Wild Jasmine 
Base Notes: Aged Cedar, Dark Mahogany, White Musk, Amber
Awesome container - Reuse as Decor, Bathroom accent or a great succulent planter!